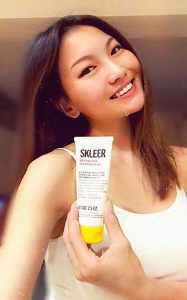 Sensitive skin can be due to a number of factors.  The greatest challenge is that when we have sensitive skin, we have the desire to scratch.  Unfortunately when we scratch, we often simply replace the feeling of itch with the feeling of pain as our skin is sensitive or damaged. The challenge is that we want to relieve the skin without damaging or irritating it.
The main factor to bear in mind is that scratching is not the solution.  The main objective is to give the skin relief without irritating or damaging it.
Treatment of Sensitive Skin
Please refer to our main Best Uses page for further details of specific conditions that may be the cause of itchy skin.
Many sensitive skin sufferers find contact with certain materials, chemicals or plants can exacerbate their itchiness so it is best to avoid contact with irritating soaps and detergents, non-organic cosmetics, wool and plants.
An anti-itch, anti-inflammatory gel or cream will relieve the itchiness and halt the desire to scratch. It is important to source as natural a product as possible as many commercially sold creams for itchy skin themselves contain harmful chemicals or chemicals that can induce a reaction.
BUY SKLEER NOW and take advantage of our limited time FREE SHIPPING offer and 60 day money back guarantee!
Tips
SKLEER All in One Skin Corrective contains Eucalyptus Oil a well-known anti-inflammatory that is perfect for sensitive skin.  The combination of essential oils in SKLEER: Eucalyptus, Tea Tree, Caraway, Cinnamon and Cardamom work synergistically. The proprietary gel formula takes the potent essential oils deep into the skin to optimise soothing.  The therapeutic power of SKLEER lies in the fact that the gel takes the natural ingredients to the lower levels of the skin for enhanced penetration and effectiveness.
For itchy skin, the oil of eucalyptus is both anti-inflammatory and a natural antiseptic, it is also a highly effective soothing agent for the skin.  Caraway oil neutralises the effects of histamine and as such can be very helpful in dissolving skin rashes.  The SKLEER All in One Skin Corrective Gel forms a protective layer on the skin to help lock moisture in and hence creates a perfect environment for healing.
SKLEER contains no parabens, no harmful preservatives, no lanolin, no hydroquinone, no corticosteroids and is not tested on animals.  The all natural formula is ideal for even the most sensitive of skins, all age groups and is suitable for babies and toddlers. Thanks to the unique patent pending formulation SKLEER All in One Skin Corrective is non-greasy.
For sensitive skin apply once a day or more if needed.