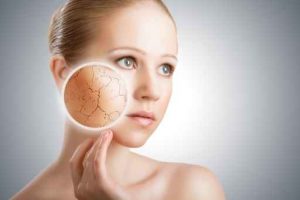 Normal skin is radiant and glowing in appearance; dry skin by contrast is dull and may be rough and prone to cracks. From the moment we are born our skin loses moisture and as we grow older we notice our skin gets more dry and prone to roughness or cracking.
The extent of our dryness varies with age and genetic disposition.  Other factors that cause dry skin are exposure to sun and wind, the cold, air-conditioning, hot spas or chemical exposure, many medical treatments and medicines also can cause dry skin.
Dry skin may cause itching and be a precursor to skin conditions such as dermatitis and eczema. When dry skin cracks, germs can get in through the skin. Once inside, germs can cause an infection. Red, sore spots on the skin may be an early sign of an infection.
Treatment for Dry Skin

The main aim of treatment is to bring moisture to the skin and lock it in. This will provide relief and restore radiance to the skin and improve its appearance.
BUY SKLEER NOW and take advantage of our limited time FREE SHIPPING offer and 60 day money back guarantee!
Tips
For dry skin the number one objective it to bring moisture to the skin and lock it in, SKLEER All in One Skin Corrective does just that. The combination of essential oils in SKLEER: Eucalyptus, Tea Tree, Caraway, Cinnamon and Cardamom work synergistically. The proprietary gel formula takes the potent essential oils deep into the skin to optimise healing and take moisture into the lower levels.  The therapeutic power of SKLEER lies in the fact that the gel takes the natural ingredients to the lower levels of the skin for enhanced penetration and effectiveness. The SKLEER All in One Skin Corrective gel then forms a protective layer on the skin to help lock moisture in and hence creates a perfect environment for the skin to regenerate and restore itself.
SKLEER contains no parabens, no harmful preservatives, no lanolin, no hydroquinone, no corticosteroids and is not tested on animals.  The all natural formula is ideal for even the most sensitive of skins, all age groups and is suitable for babies and toddlers. Thanks to the unique patent pending formulation SKLEER All in One Skin Corrective is non-greasy.
For dry skin, apply to the affected area morning and night.  Can be used under make-up or other cosmetic products.
We have many testimonials from customers who have found relief from dry skin as you can see below.
I love this product!!
in two days such an improvement in my skin, the dryness, redness, tightness, on my face is so diminished it's almost unbelievable!
I ordered the soap and a large tube of gel and am so excited after over a year this is the best the skin on my face has looked…Thank You so very much you can expect more orders from me in the future!!

Diane C, Pawling, New York

Asset to ebay, thank you.
Buyer: Member id cah5543 ( Feedback Score Of 323

)
During past month
Perioral Dermatitis, Itchy,Sore Dry Skin Relief Gel (#252540537132)
Ebay Review

Great stuff. Dozen times I've purchased samples soap or this gel
Buyer: Member id mysprayontan ( Feedback Score Of 722

)
During past month
Provides Instant and Lasting Relief For Dry, Cracked, Itchy, or Irritated Skin (#152542211544)
View Item
Amazing Stuff repeat Customer can't get enough A++
Buyer: ramonauila ( 93

)
During past month
PERIORAL DERMATITIS/ ITCHY/SORE DRY SKIN RELIEF~ NATURAL Gel +Soap Pack (#162317267008)

View Item

Video Testimonial on SKLEER
Here are 7 testimonials we received unsolicited from doctor's offices over the last couple of months.
As doctors are known for their maybe not-so-easy-to-read-handwriting we've typed them up after as best we could.



DR NKUMALO.
I HIGHLY RECOMMEND THIS PRODUCT TO MY PATIENT. pLEASE TELL US WHERE TO GET IT?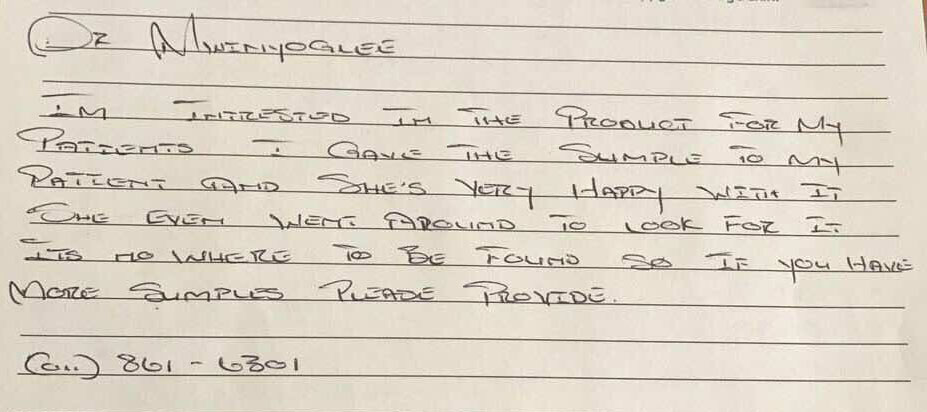 DR MWINYOGLEE
I'M INTERESTED IN THE PRODUCT FOR MY PATIENTS. I GAVE THE SAMPLE TO MY PATIENT AND SHE'S VERY HAPPY WITH IT. ONE EVEN WENT AROUND TO LOOK FOR IT. ITS NO WHERE TO BE FOUND SO IF YOU HAVE MORE SAMPLES PLEASE PROVIDE.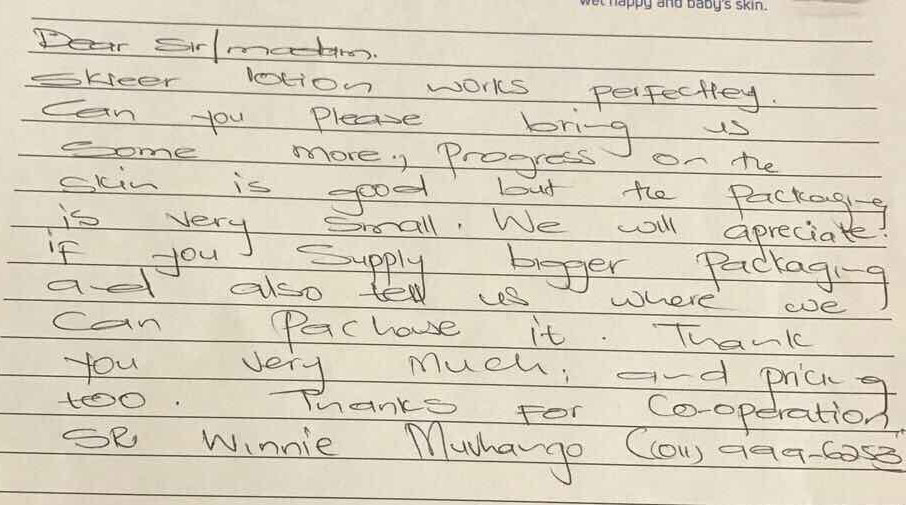 Dear Sir/madam
Skleer lotion works perfectly. Can you please bring us some more, progress on the skin is good but the packaging is small (SKLEER has a large 2.5oz-75ml size she was only given a sample size). We will appreciate if you supply bigger packaging and can you tell us where we can purchase it. Thank you very much; and pricing too. Thanks for co-operation. SR (sister) Winnie Muchango.



I took a sample of Skleer Skin Conditioning Gel to try it. It works very well on her.
Her skin was rough and dry. Now all is gone.
Thanx!!!



– I used Skleer cream for my teenage daughter who has a problem with her skin – has pimples on her face.
– Since she started using it her face is smooth; all pimples are gone now and I recommend Skleer. Also to all those parents with teenagers who has problems with their skins like acne.



Goodmorning I'm Dudo Turi a sister or Registered Nurse at Hercules Clinic. I used Skleer as I am suffering from eczema. I used it for a week at first and more pimples came out but as the time goes on my skin started to be more clearer. I would like more of the product but I can't find it at my neares pharmacy.



Hi; i'M KAGISO GEOFFREY; WHO WORKS @…… I MET WITH ONE OF YOUR CONSULTORS; WHO INTRODUCED ANOTHER PRODUCT CALLED "SKLEER SKIN RESTORATION GEL"; UNFORTUNATELY ONCE YOU RUN OUR OF IT; IT'S DIFFICULT TO FIND IT; (Unfortunately couldn't make out the rest of the handwriting)