Burns (Minor)
The foremost distinction between major and minor burns is that minor burns damage the top layer of the skin only, the epidermis.  Major burns require immediate medical assistance. With minor burns the skin usually swells, is prone to blisters and is painful. The skin sometimes scales within a few days and sometimes there is scarring. Healing from minor burns will occur naturally and will often take a week or more but if untreated scarring can remain.
Cuts and Abrasions
Whatever the cause of minor cuts and abrasions, the key is to keep the skin from getting infected.
Treatment
In the case of burns as noted above if the burn is major immediate medical assistance is required.  In the case of minor burns the area should immediately be cooled, and it is important to avoid infection.
In the case of cuts and abrasions it is important to clean the skin and treat to prevent infection.
BUY SKLEER NOW and take advantage of our limited time FREE SHIPPING offer and 60 day money back guarantee!
Tips
The ingredients in SKLEER All in One Skin Corrective, are both anti-inflammatory and anti-bacterial, it is a natural antiseptic and therefore perfect for minor burns, cuts or abrasions. The combination of essential oils in SKLEER: Eucalyptus, Tea Tree, Caraway, Cinnamon and Cardamom work synergistically. The proprietary gel formula takes the potent essential oils deep into the skin to optimise healing.  The therapeutic power of SKLEER lies in the fact that the gel takes the natural ingredients to the lower levels of the skin for enhanced penetration and effectiveness.
For burns, cuts and abrasions, the oil of eucalyptus is both anti-inflammatory and a natural antiseptic, it is also a highly effective soothing agent for the skin. Tea tree oil is antibacterial, antimicrobial, antiviral and is a fantastic natural antiseptic. It helps wounds to heal quickly and protects against infections. Furthermore tea tree oil can help to diminish scarring.  The SKLEER All in One Skin Corrective gel forms a protective layer on the skin to help lock moisture in and hence creates a perfect environment for healing.
SKLEER contains no parabens, no harmful preservatives, no lanolin, no hydroquinone, no corticosteroids and is not tested on animals.  The all natural formula is ideal for even the most sensitive of skins, all age groups and is suitable for babies and infants. SKLEER All in One Skin Corrective is a non-greasy formulation.
For minor burns, cuts or abrasions, clean the skin then apply to the affected area 3 times a day.
We have numerous testimonials from customers who have been amazed at how quickly their burns and cuts or abrasions have healed following the use of SKLEER All in One Skin corrective.

This is the before and 30 days and then 60 days after of a woman who was in a traffic accident, using SKLEER to help the skin restore itself, she was very happy with the result as you can see.
Video Testimonial on SKLEER
AMAZON REVIEW


Great stuff
By lisa on August 8, 2017
I loved this product, in August of 2016 I burnt my right for arm pretty badly, placing the skleer on my burn did wonders.of course I do still have a scar but I couldn't imagine what it would look like if I hadn't used the skleer.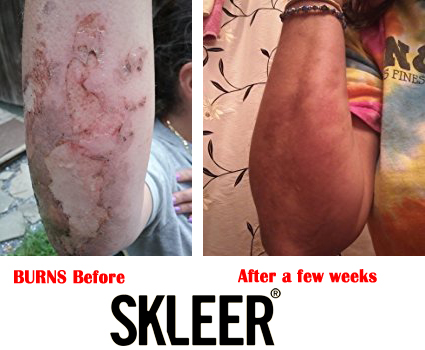 SKLEER - BETTER THAN NATURETM
A couple of weeks ago I went for a swim, then the change room had some closets for clothes, and they were arranged so there was one on top of the other, and when I went to collect the clothes I opened the locker, and bumped my head against the door of the locker which was made out of wood.
I opened the locker without looking carefully I bumped my head against the wood of the locker. I then had a tremendous amount of pain and could feel a bump was forming above the left eye, and I had to get rid of this bump as I had an important meeting the next day, this happened at 5pm.
I fortunately had a tube of SKLEER immediately available, and was able to put the SKLEER on before it started bleeding, I was then able to put the SKLEER on every half-an-hour on the bump, and proceeded to do that until about 10 o'clock that night when I went to sleep, and then in the morning when I woke up at 6am the bump was already receding, but I carried on this application of SKLEER for another few hours, and the SKLEER had stopped the bump from developing and the bump was almost gone by 10 o'clock that morning.
So I must have put on about 15 applications of SKLEER on in that time, and managed to stop the bump from occurring. The next day the bump had disappeared completely and there was no evidence and scar that anything had occurred. This quick action showed that the application of SKLEER on various problems of the skin, where SKLEER is applied every half an hour, will be useful in a lot of ways.
Maurice, Sydney
Hi Gary! I hope you're doing well! The other day I burned my neck with my hot hairbrush and it "Skleered" up within a day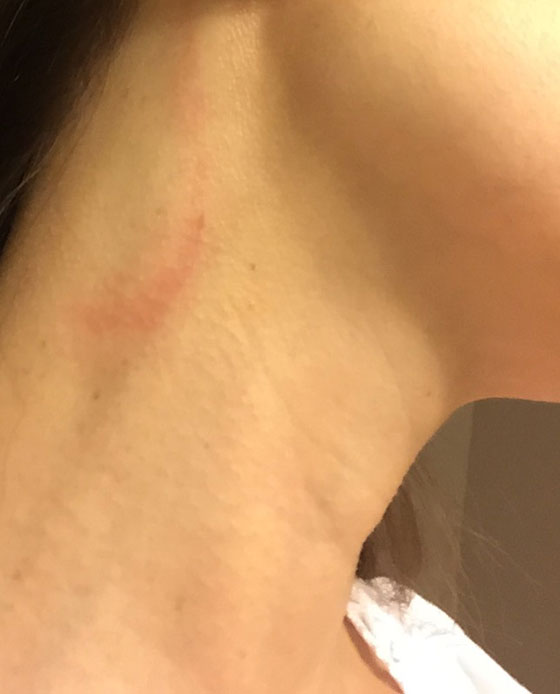 From: carol johnson
To: info@skleer.com
Date: Tue, 21 Feb 2017 13:00:19 +0200
Subject: SKLEER
Good afternoon .I just want to congratulate you on a wonderful product. I have never come across an item which a person can use for almost anything. Im using Skleer for 6months now and wont change it for anything else. I tell all my friends about this wonderful product. It will definitely always be in my first aid cupboard. Keep up the good work. Regards Carol Johnson.
Re: Introduction - Lara and Gary
From: Lara
Sent: Tue 7/21/2015 5:48 PM
To: info@skleer.com
Hi Gary,
We received our Skleer today. Thank you!
My staff and I tried it on ourselves and I've made little samples for the girls to take home and try for a few days. One of my sugarists applied the Skleer on her client after sugaring her eyebrows. The client responded very positively. Not only did she say the sting went away immediately but, by the time she walked out of the room her skin had gone from bright red to barely noticeable that she had anything done. So far we are very impressed!!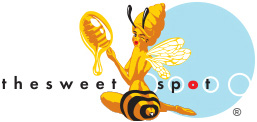 thesweetspotseattle.com
Last night I burned my hand on an extremely hot piece of pita as I pulled it out of the toaster. Screaming in pain I immediately smothered skleer in it twice within an hour and the pain went within minutes and today no sign of my burn.
Sent from my iPad
Linda, Melbourne Australia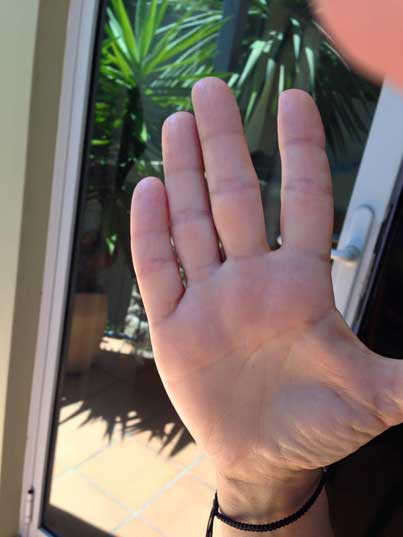 [Click on image above to see a large version of image]
My hand, perfectly healed thanks to Skleer. What an amazing product.

 Josette Bernstein on Facebook
[See her previous before and after images in a post below.]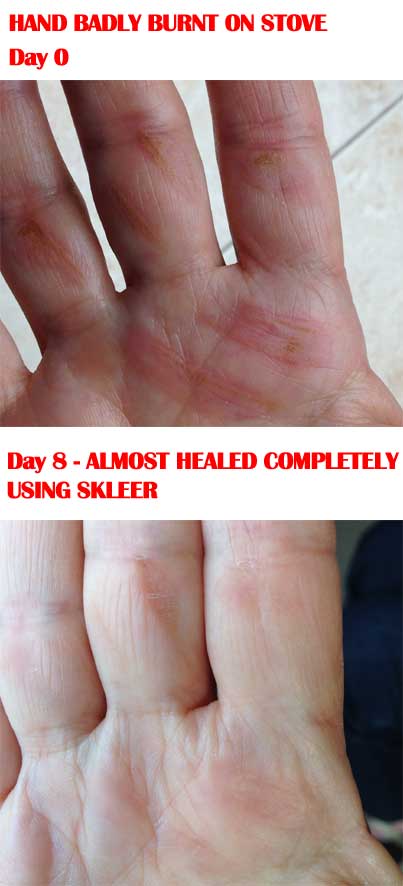 [Click on image above to see a large version of image]
I burnt my palm and fingers on the coils of my stove. The pain was like nothing I have experienced in my life. I thought I would have to go to the emergency room. My brother in law had some skleer and insisted I apply it at regular intervals. The next morning it was so much better. I applied it several times a day for a week. It got progressively better daily and today is day 8 and there is hardly scarring. I would recommend this amazing product!
Josette Bernstein
She also posted here with another picture on Facebook
FYI - I discovered another great use for Skleer. Tattoos! With the latest tattoo to my collection, I used Skleer instead of my usual goo. Four days later it was completely healed!
Lara Bosch on Facebook
I had a really deep cut on my thumb and I was really worried about it healing. Upon a friend's recommendation, I tried Skleer and was amazed at the results. Within a few hours I already noticed a difference. In a day, the cut had completely closed, in 2 days I could hardly notice it and within 3 days it had completely healed. Amazing!
Dale Effren
HUSTEDS PHARMACY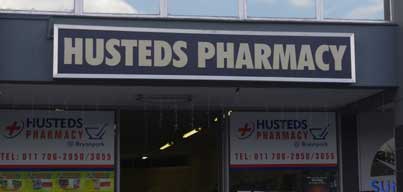 Audio Testimonials from Husteds Pharmacy
Audio 1 (Nothing helped Mosquito bite except SKLEER, also with oil burn)
Audio 2 (Good feedback customers, healed infested burn)
Audio 3 (Helps with shaving, ingrown hairs)
Audio 4 (Acne breakout cleared)
TUCKERS PHARMACY (SUNNINGHILL)
Worked brilliantly. Siphiwe's (pharmacist) daughter suffers with eczema - usually takes 2 days to clear with the help of Skleer.
When her daughter scratches herself while playing, she asks mommy for her medicine, ie. Skleer :).
Majority feedback from customers relates to spots and pimples - very positive.
Audio Testimonial from Tuckers Pharmacy
Audio of above
More from Springbok Pharmacy...
Bonnie who works at the cosmetic counter said she is impressed with Skleer - her daughter suffers with fever blisters, which usually take +/- 4 days to clear..since using Skleer, healing time has been cut in half to +/- 2 days.
Noli who works at the cosmetic counter said she was teased constantly and at one stage did not have a lot of confidence due to her skin being very dark with a lot of marks and hated having photos taken. Since using Skleer, her skin has improved drastically, has regained confidence and now easily poses for photos. She said she receives proposals left, right and centre. She loves Skleer.
Audio testimonial from Noli (Nokuthaba), a cosmetic counter assistant at Springbok pharmacy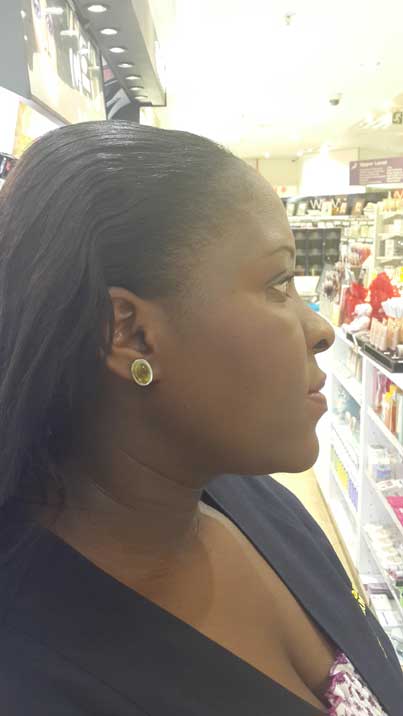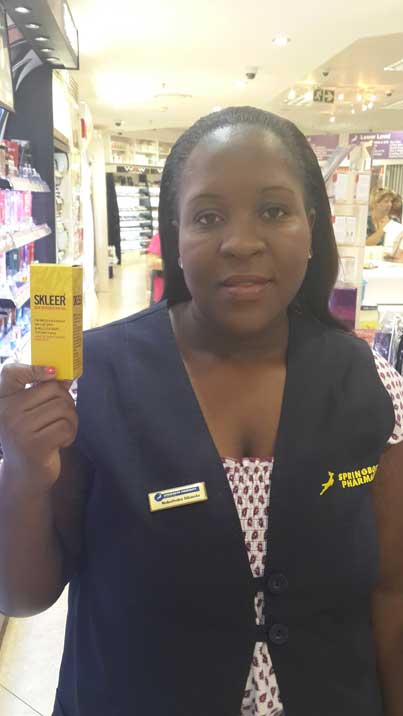 (To download high definition originals, so you can really zoom in and see how good her skin is now, click on photos above.)
BENNETTS RAN A COMPETITION REFERRING PEOPLE TO THE SKLEER FACEBOOK PAGE LAST MONTH, THERE WERE 10 PEOPLE WHO WON A TUBE OF SKLEER, HERE ARE [6] OF THEIR TESTIMONIALS:
[1]
From: Amanda Jones
Sent: 27 November 2013 10:24 AM
To: Angie van Staden
Subject: RE: Skleer
Hi Angie
Yes I received it - I didn't use the product on myself. I gave it to my cousin whom has very bad skin and within a week he could see the difference.
According to his mom she was very impressed.
GREAT PRODUCT!!
[2]
From: chantal van Blerk
Sent: 27 November 2013 10:21 AM
To: Angie van Staden
Subject: Re: Skleer
Hi there.
Yes i received my prize.
Since i have been using it my skin is just so much smoother and not as dry and scabby as normal.
I have a very problematic skin and cant use most creams on it as it breaks out in a open skin rash.
But very happy with Skleer as no rash occurs and it makes my skin smoother 🙂
Thank you soooo much for my prize and opportunity to test your product.
Chantal
[3]
From: nicole pillay
Sent: 27 November 2013 07:40 PM
To: Angie van Staden
Subject: Re: Skleer
Hi angie,
Im well thanks, how are you? Wow i truely cannot believe the difference in my boyfriends hand, it is almost healed, there maybe a scar but nobody would believe it was a burn. A truely remarkable product, and we will certainly continue using skleer.
Thank you for everthing
[4]
From: Zan-Mari Vosges
Sent: 27 November 2013 05:44 PM
To: Angie van Staden
Subject: Re: Skeer
Hi Angie
So sorry. I posted on the wall but I did not email you to say thank you.
I am very impressed. My son had a huge accident a while back and he has this huge scar on his forehead. Skleer is slowly but surely making it go away. Hubby said he wants to try it on his skin. He has marks on his skin since he was a teenager. Will let you know how it goes.
Zan-Mari
[5]
From: Carmen Blumrick
Sent: 28 November 2013 09:19 AM
To: Angie van Staden
Subject: Re: Skleer
Hi Angie
Thanks so much,Im loving Skleer,my skin has lots of scarring and I can see a visible difference in just 3 weeks.Since using it Iv had a lot less blackheads too
Kind Regards
Carmen
[6]
From: Jaco Lubbe
Sent: 29 November 2013 10:50 AM
To: Angie van Staden
Subject: Re: Skleer
HI Angie!
I have received my Skleer product. Thank u so much!
I love this product, (and might I add I catched my husband the other day putting it on aswell!)
I can definitely see a difference on my skin (old pimple marks etc).
Kind regards!
Lorenda Lubbe
MORNINGSIDE PHARMACY
Morningside Pharmacy Testimonials on SKLEER
Hi All,
Finally, my report for last week's activities...
Ackermans Pharmacy: I initially delivered units to them several weeks ago after a mom came in requesting the product for her son who burnt himself. The only info offered to me was that the product seems to be working, however they did not have any testimonials to offer.
Wendywood Pharmacy: positive feedback regarding acne and blackheads.
Medicare Parkmore: Helen (staff) gave samples to her two kids who suffer with acne and noticed and improvement.
Manor Pharmacy: Positive results found - customers suffering with acne and blackheads.
Husteds Pharmacy: Results from clientele who have tried Skleer - clearing of acne, blackheads, lightening of uneven pigmentation. Monica made special mention of one customer who had an inflamed and infected sore on her foot - after having given her a sample of Skleer, the lady returned to show them that the sore had healed.
Galleon Pharmacy: Positive results found with unfavourable symptoms such as acne and blackheads.
Killarney Mall Pharmacy: Sia has been receiving positive results from customers relating to acne and blackheads.
She referred me to Marissa who had many positive things to say about Skleer.
Marissa Geel has been following Skleer on Facebook since being referred by the Bennetts page (Skleer competition).
She has been monitoring the positive comments being posted and decided to collect some samples downstairs from Sia.
Attached is before and after photos of Marissa (see next post)...the before photos were taken on a Thursday and the after photos on the Monday thereafter. She is impressed with Skleer and speaks highly of the product after having tried many other skincare treatments most retailers have to offer.
Kind Regards
Angie
Bennett's Gauteng Representative
Morning Angie.
Hope this email finds you well. Is Lebeko Teresia Maenetja, I sent you an email on Thurday about the product of SKLEER and I appreciate your colleague returned to me telephonically. The good news is, I see positive feedback on the product, all the open pimple are closed and dry, now am looking forward to remove the spots. My skin started to develop softness and the tone (colour)is coming back because I ws burnt by other products. Hope you don't mind if I keep you updated as I've been trying many products but no luck to my problem. SKLEER is amazing. I can't let it out of side.
Thank you.
Sent from my BlackBerryR wireless device
Hi Guys,
Pharmacies within the Sunninghill area are receiving positive feedback – one customer in particular is looking for a Skleer hamper.
Siphiwe (pharmacist) has used Skleer on her 3yr old daughter for cuts and grazes as well as dry skin between her fingers and has seen positive results.
Siphiwe herself has noticed an improvement with the lightening of dark spots.
Many customers are noticing results regarding acne conditions in particular.
Pharmacies within the Morningside and Gallo Manor area's: ladies working behind the OTC counter have received feedback regarding acne conditions having improved. The one assistant tried it herself and said: it works (acne related).
Bryanston area: results of pigmentation, acne, dry/flaky skin improvement and clearing of a facial rash.
A gentleman used the same shaver on his head as his son without washing the blade (his son has ringworm)…Weleda Bryanston gave him a sample of Skleer to alleviate the dad's symptoms of what seemed to be the start of ringworm as well – the father was amazed at the results and returned to buy a 30 ml tube for his son.
Have a lovely weekend.
Regards
Angie
Bennett's Gauteng Representative
Hi Guys,
A pharmacy in Primrose had a mom come back looking for product as she used a sample on her son who burnt himself.
Regards
Angie
Bennett's Gauteng Representative
Just to let you know. I gave all the telesales girls at Alpha EC a sample and did a small training all very impressed. Told them my cat story..By the way my hand is totally healed. My reps daughter put it on a big pimple - pimple was gone by the next day... l like this product.
To be honest, thought it was just another... """miracle cream""" but now I know it is.
Regards
Denise
A cat scratched me on Friday. I put it on immediately, bleeding stopped and it was not sore at all. VERY VERY IMPRESSED.
Regards
Denise