Skin beauty through nature
SKLEER  is an "All in One Skin Corrective" that creates skin beauty through nature's ingredients and is ideal for use on all skin types including those affected by:
Cold Sore
Rosacea or Redness
Keratosis Pilaris
Hidradenitis Suppurativa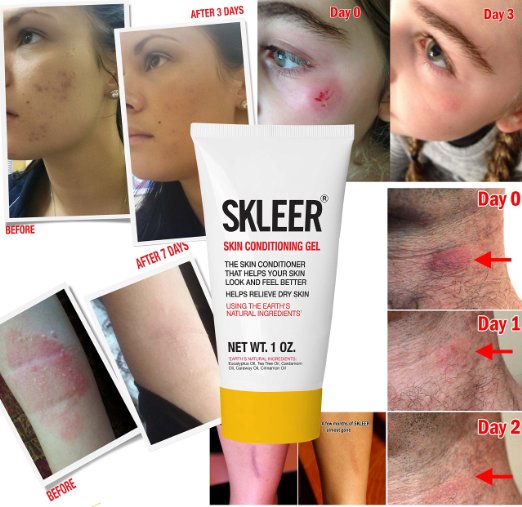 Also great after Waxing and as nature's Skin-Lightener over time.
Potent, power packed natural ingredients
SKLEER is a dermatologist recommended product that assists with a number of Skin Conditions.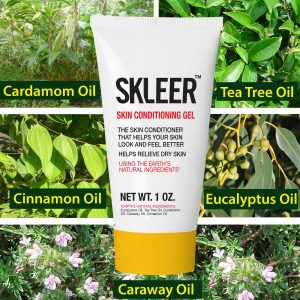 Natural
SKLEER contains no parabens, no harmful preservatives, no lanolin, no hydroquinone, no corticosteroids and is not tested on animals.  Also has no Salicylic Acid, no Glycolic Acid, no Retinoic Acid and no Benzoyl Peroxide. Potent power packed natural ingredients that can assist with a number of Skin Conditions.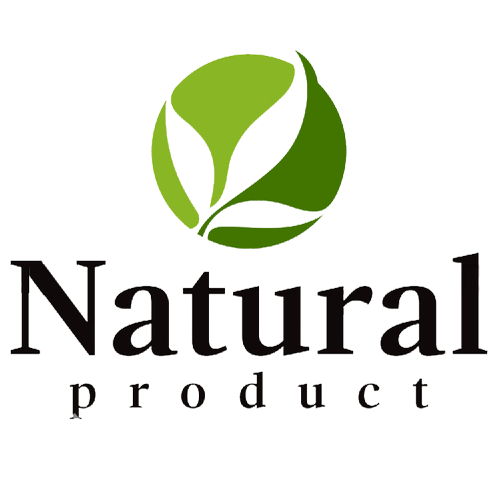 Safe
The all natural formula is ideal for even the most sensitive of skins, all age groups and is suitable for babies and toddlers. Hence SKLEER is recommended by doctors and dermatologists and our customers.

Guaranteed
We are so confident that SKLEER will assist you in dealing with a variety of skin conditions that we will refund 100% of your purchase if you are not satisfied in any way.  We offer a 60 day money back guarantee.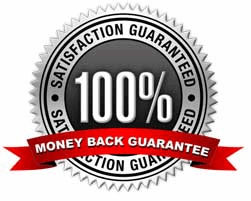 Everyone should have SKLEER
SKLEER is an All in One Skin Corrective that everyone should have at home or in their bag, your go to product for all manner of skin ailments and issues.
SKLEER contains a combination of essential oils: Eucalyptus, Tea Tree, Caraway, Cinnamon and Cardamom that work synergistically to assist healing. The proprietary gel formula takes the potent essential oils deep into the skin to optimize healing.
The beneficial power of SKLEER lies in the fact that the gel takes nature's ingredients to the lower levels of the skin for enhanced penetration and effectiveness.
Thanks to the unique patent pending formulation SKLEER All in One Skin Corrective is non-greasy.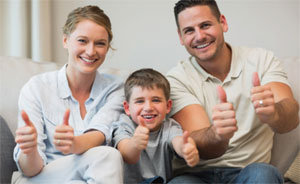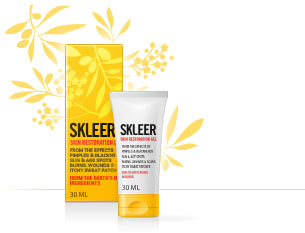 Good for your skin
SKLEER is a "must-have", "nature" beauty and skin-care product.
It is used on the face, skin, body, burns, rashes, scars – everywhere!
And the more you use it, the better looking your skin and your beauty!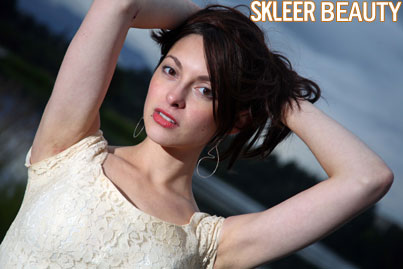 Younger looking skin
SKLEER ALL IN ONE SKIN CORRECTIVE is the ultimate skin conditioner.
Regardless of whether your skin is dry, normal or oily, use SKLEER to nourish, moisturize and protect it.
Because SKLEER helps smooth the appearance of lines and wrinkles, refines texture, and evens skin tone for a fresher and more youthful appearance.
So, when your skin looks and feels fresher, clearer and tighter, it gives you confidence in the beauty of your skin, we call this Skin Confidence.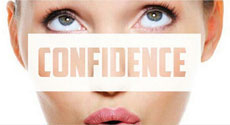 Non-greasy Skin Beauty
SKLEER is a skin conditioning gel that helps your skin look and feel better using nature's ingredients.
Also, it has a unique gel formulation that carries nature's herbal ingredients onto the skin for a deeply refreshing and moisturizing application. This allows for skin appearance to improve.
And it's a pleasingly non-sticky gel that immediately absorbs into the skin on contact, and can be used throughout the day and night.
Because it is non-greasy, it is also good for oily skin.

REAL REVIEWS, REAL RESULTS
SKLEER has more real unsolicited and unscripted reviews from real people than anyone else we know of. Here are a few random one's below:
AMAZON REVIEW


Great product. I have dark sun spots on my ...
By Hanh Nguyen on October 24, 2017
Great product. I have dark sun spots on my chin that has lightened after I used this product.
SKLEER Chat
Hayley -

3 November 10:47

- Hi. I live in the UK and have purchased this through eBay from Australia. It was the on,y thing that managed to get my perioral dermatitis under control and my skiing back to normal.
Hayley -

3 November 10:47

- Can I purchase direct from you and post to UK?
Hayley -

3 November 10:48

- *skin
skleer -

3 November 10:49

- Hi Hayley. Very glad to hear of your good results.
Hayley -

3 November 10:49

- It's amazing stuff
skleer -

3 November 10:51

- Excellent to hear that. Do you have a paypal account?
Hayley -

3 November 10:51

- Yes I do
skleer -

3 November 10:52

- If you email us at info@skleer.com, we can invoice you direct and send you what you need
skleer -

3 November 10:52

- Just tell us what you want, and we will send it to you and invoice you through Paypal
skleer -

3 November 10:54

- Does that work?
Hayley -

3 November 10:55

- Yeah that's absolutely fine!. Thanks so much for your assistance. I really appreciate it
skleer -

3 November 10:56

- Thank you!! Our pleasure
Hayley -

3 November 10:56

- I'll do it now as I'm on the last bit of my tube and I don't want to run out
skleer -

3 November 10:57

- Great. Thank you so much!
Hayley -

3 November 10:57

- Thanks have a good day
skleer -

3 November 11:00

- Thank you, you too!
What a fantastic product. I was very surprised by how quickly the product works for blackheads and pimples. I have an oily skin around the nose and chin area and have been using the product with good results. The product does not dry out the skin and has a pleasant smell. My husband is using the product for after he has shaved and no more redness or ingrown hairs. My little one (2 years) comes home from day-care she has little cuts and I use the product and within a day or two its healed.
I will definitely recommend the product to all my friends and colleagues.
Kind regards
Marlene Kotze
Hi Gary,
I couldn't believe me eyes.
After a 13 mile run with some new running shoes I got one nasty blister. So I decided to put some of the Skleer on it as it was red and painful. I massage some onto my sore feet as well. The next day it was as if there never was a blister at all. The skin around it was tight and no loose skin to take off. It just disappeared as if it never existed. Thank you for the samples they really came in handy.
I will recommend to my running group the L.A.Leggers to use it as well. As runners we are always looking for relief from chaffing as well as blister.
Please provide me with the website so I can share it with my co-runners.
Thank you again.
All the best,
Carmen, Los Angeles
More from Springbok Pharmacy...
Bonnie who works at the cosmetic counter said she is impressed with Skleer - her daughter suffers with fever blisters, which usually take +/- 4 days to clear..since using Skleer, healing time has been cut in half to +/- 2 days.
Noli who works at the cosmetic counter said she was teased constantly and at one stage did not have a lot of confidence due to her skin being very dark with a lot of marks and hated having photos taken. Since using Skleer, her skin has improved drastically, has regained confidence and now easily poses for photos. She said she receives proposals left, right and centre. She loves Skleer.
Audio testimonial from Noli (Nokuthaba), a cosmetic counter assistant at Springbok pharmacy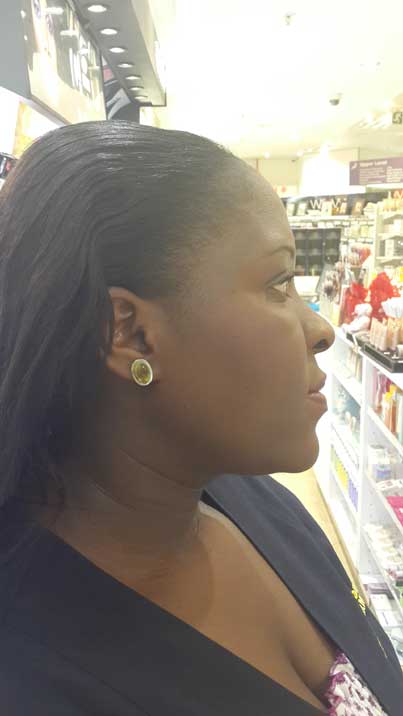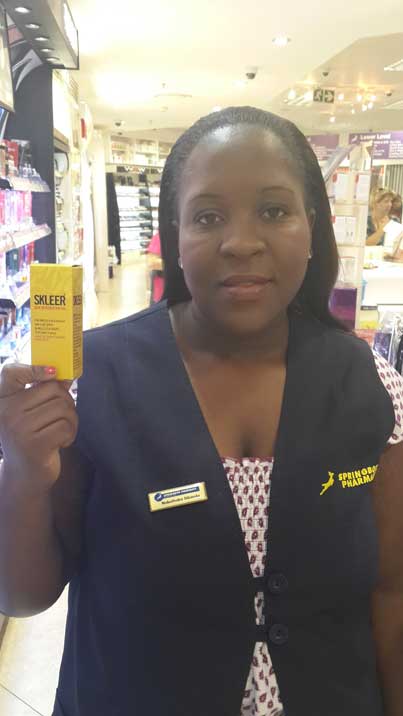 (To download high definition originals, so you can really zoom in and see how good her skin is now, click on photos above.)
SKLEER showcases on SugarBash's Shirley Strawberry on the Steve Harvey Morning Show on the radio in the USA
Click here for the audio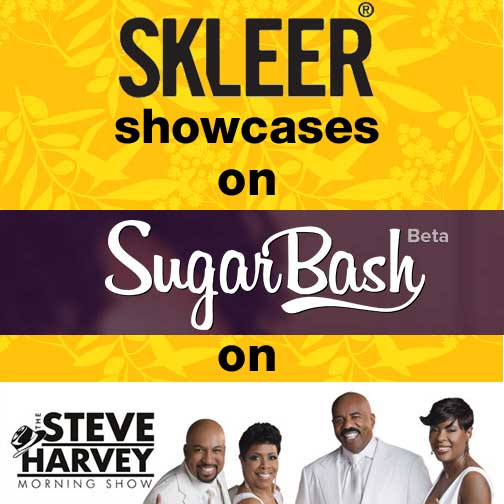 Here is a link from Shirley Strawberry of the Steve Harvey Radio Show on Facebook:
Shirley Strawberry
Here is the email correspondence we had with Samantha Kandah, partner with Steve Harvey on Sugarbash before our radio spots:
Re: Steve Harvey Radio Spot
From: Samantha Kandah
Sent: Thu 6/25/2015 1:54 PM
To: gary.kramer@skleer.com
Hi Gary,
I hope all is well!
Attached you will find the file from our spot this morning. It will run again tomorrow at 8:34 am ET and three times on Saturday we do not have the times yet.
As an additional bonus I got Mr. Harvey to use his social media platforms to post about SB and the brands. They posted today and will be posting again tomorrow and Saturday. This will give us more exposure to an additional 4M followers.
The ladies keep emailing us for more information about your product! It is amazing I am hoping they are converting over to additional sales.
Please let me know if you need anything else.
Thanks,
Sam
Steve Harvey Radio Spot
From: Samantha Kandah
Sent: Tue 6/23/2015 12:08 PM
To: gary.kramer@skleer.com
Hi Gary!
Sorry for the delay on securing a date for our radio spot. We will be on this Thursday, June 25, 2015. I am still waiting for the time, however, the producers are giving us the prime spot!
As a bonus, we will record the spot as a billboard and run it again three more time!s!! We are shooting for Friday and Saturday, June 26, & 27th.
So plenty of airtime! I have another bonus in the works, I just to confirm one more detail then I can share the good news!
Our ladies are really loving your product! Here is a link to one of our bloggers reviewing the products:
http://alwaysabby.com/sugarbash-shirley-strawberrys-sweet-picks-review-coupon-code/#more-2990
Thank you!
Sam
Hi All,
Finally, my report for last week's activities...
Ackermans Pharmacy: I initially delivered units to them several weeks ago after a mom came in requesting the product for her son who burnt himself. The only info offered to me was that the product seems to be working, however they did not have any testimonials to offer.
Wendywood Pharmacy: positive feedback regarding acne and blackheads.
Medicare Parkmore: Helen (staff) gave samples to her two kids who suffer with acne and noticed and improvement.
Manor Pharmacy: Positive results found - customers suffering with acne and blackheads.
Husteds Pharmacy: Results from clientele who have tried Skleer - clearing of acne, blackheads, lightening of uneven pigmentation. Monica made special mention of one customer who had an inflamed and infected sore on her foot - after having given her a sample of Skleer, the lady returned to show them that the sore had healed.
Galleon Pharmacy: Positive results found with unfavourable symptoms such as acne and blackheads.
Killarney Mall Pharmacy: Sia has been receiving positive results from customers relating to acne and blackheads.
She referred me to Marissa who had many positive things to say about Skleer.
Marissa Geel has been following Skleer on Facebook since being referred by the Bennetts page (Skleer competition).
She has been monitoring the positive comments being posted and decided to collect some samples downstairs from Sia.
Attached is before and after photos of Marissa (see next post)...the before photos were taken on a Thursday and the after photos on the Monday thereafter. She is impressed with Skleer and speaks highly of the product after having tried many other skincare treatments most retailers have to offer.
Kind Regards
Angie
Bennett's Gauteng Representative