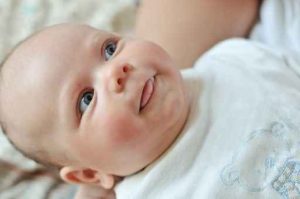 Razor rash or razor burn or ingrown hair
Razor rash or razor burn or ingrown hair is an irritation of the skin brought on by shaving.  The mild rash usually appears a few minutes after shaving and can sometimes be accompanied by razor bumps or pustules. Razor burn is common for people with sensitive skin who shave their face, underarms, pubic area or bikini line, beard or chest.
Nappy rash or diaper rash
Nappy rash also known as diaper dermatitis or diaper rash is a general term applied to skin rashes in the nappy/diaper area that are caused by various skin disorders or irritants, as well as  infrequent diaper changes. Nappy rash can create a secondary infection with bacterial or fungal involvement.  It is generally considered a form of irritant contact dermatitis.  See (link to our webpage irritant contact dermatitis) for further information.
Skin Chafing
Skin chafing can occur when the skin becomes irritated through rubbing against another material, for example through sport when wearing protective clothing or motorcyclists wearing helmets etc. With skin chafing the skin becomes irritated and inflamed and there is sometimes a painful rash present.
Treatment
Razor rash is frequently caused by shaving too closely, a blunt blade, dry shaving or being too rough when shaving.  It can also just be prevalent for people with very sensitive skin who shave.  To try and prevent razor rash keep skin moist whilst shaving, don't apply too much pressure and shave along the grain.  Don't apply after-shave or cologne after shaving as the ingredients are often too harsh on the skin especially if you are prone to razor rash.
If you have a rash or irritated skin from shaving or if you are experiencing skin chafing you can treat with an anti-inflammatory cream or gel to soothe the skin and it may also be necessary to protect the skin from infection, depending on the severity of the condition.
With nappy rash it is important to treat the irritated and inflamed skin with an anti-inflammatory cream or gel. However, always treat inflamed skin, particularly that of a baby with a gentle product, as natural as possible, rather than a strong chemical based product which in itself could cause a reaction. It is also wise to prevent infection and in the case of nappy rash something that is also an anti-fungal would be beneficial.
BUY SKLEER NOW and take advantage of our limited time FREE SHIPPING offer and 60 day money back guarantee!
Tips
SKLEER All in One Skin Corrective contains Eucalyptus oil, a well-known anti-inflammatory that is perfect for irritated or inflamed skin.  The combination of essential oils in SKLEER: Eucalyptus, Tea Tree, Caraway, Cinnamon and Cardamom work synergistically. The proprietary gel formula takes the potent essential oils deep into the skin to assist in healing.  The therapeutic power of SKLEER lies in the fact that the gel takes the natural ingredients to the lower levels of the skin for enhanced penetration and effectiveness.
For irritated skin, the oil of eucalyptus is both anti-inflammatory and a natural antiseptic, it is also a highly effective soothing agent for the skin.  Caraway oil neutralizes the effects of histamine and as such can be very helpful in dissolving skin rashes.  The SKLEER All in One Skin Corrective gel forms a protective layer on the skin to help lock moisture in and hence creates a perfect environment for healing.
The Cinnamon oil in SKLEER is both an antibacterial and antifungal agent making it a very effective treatment for infections. Tea Tree Oil is antibacterial, antimicrobial, antiviral and a natural antiseptic in addition to being a fungicide. This makes SKLEER All in One Skin Corrective a powerful product to use for nappy rash.
SKLEER contains no parabens, no harmful preservatives, no lanolin, no hydroquinone, no corticosteroids and is not tested on animals.  The all natural formula is ideal for even the most sensitive of skins, all age groups and is suitable for babies and toddlers. Thanks to the unique patent pending formulation SKLEER All in One Skin Corrective is non-greasy.
Apply to affected skin area 3 times a day. In the case of shaving rash apply immediately following shaving and with nappy rash, each time you change baby's diaper/nappy.  SKLEER can be used as a nappy rash preventative.
Here are real unsolicited testimonials  from people using SKLEER related to razor rash, diaper rash or chafing.

Great product, would definitely buy from again 👍🏻
Buyer:
Member id sarah_ross_200 ( Feedback Score Of 72

)
During past month
INGROWN HAIR/ FOLLICULITIS/ BACTERIAL INFECTION/ RASOR BUMPS~Antibacterial Gel (#162019684558)
Start(ed) using SKLEER about 2 weeks ago on my amputated leg. Got a serious rash from the Silicon Liner (of the prosthetic leg). 2 weeks and rash is gone, and I can walk again with my prosthetic leg. I can really recommend SKLEER!
Other Correspondence from her:
Thank you so much again.  My leg is so much better.  For the first time since amputation.
C.D.T. (South Africa)
Email from C.D.T. about 1 month later:
Hi Elsa

As you know I battle with a rash on my stump.  Morris gave me a tube of Skleer and within 2 days I was able to put on my prostetic leg.  I used it since and no more problems.

Ebay Feedback by teki6080 Mar 06, 2019
It is my 'Miracle' gel!
I don't usually write reviews, but when I love a product as much as I love Skleer Gel I must gush! This really is a miracle skin care product. I am 62 years old and still was breaking out with ocassonal pimples. No more, thanks to Skleer Gel. It is a multi-use product. It also takes care of rashes, because I am prone to rashes. Plus a big age spot on my face is fading away! I will never be without Skleer Gel in my home. I am hooked for life!
Verified purchase: Yes | Condition: new | Sold by: actionorder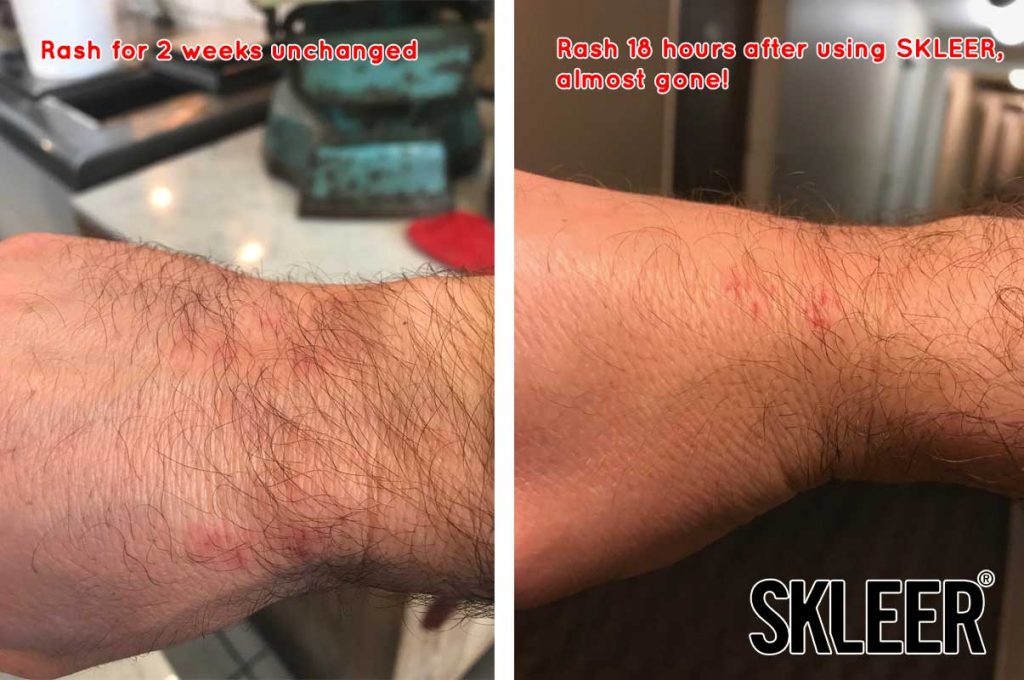 2 week old rash not changing, almost gone in 18 hours with SKLEER!
AMAZON REVIEW


I use it with my cpap
By J CHRISTIANSEN on November 7, 2017
Verified Purchase
I came across an Australian website that said this is good to use with cpap. I have tried,several and even expensive creams with limited results. After a couple nights, the redness is done chapping has significantly reduced. I use very, very little all over. I am very happy with this product. I did not receive a discount for my review. Just a very pleased customer.
SKLEER – BETTER THAN NATURETM
A couple of weeks ago I went for a swim, then the change room had some closets for clothes, and they were arranged so there was one on top of the other, and when I went to collect the clothes I opened the locker, and bumped my head against the door of the locker which was made out of wood.
I opened the locker without looking carefully I bumped my head against the wood of the locker. I then had a tremendous amount of pain and could feel a bump was forming above the left eye, and I had to get rid of this bump as I had an important meeting the next day, this happened at 5pm.
I fortunately had a tube of SKLEER immediately available, and was able to put the SKLEER on before it started bleeding, I was then able to put the SKLEER on every half-an-hour on the bump, and proceeded to do that until about 10 o'clock that night when I went to sleep, and then in the morning when I woke up at 6am the bump was already receding, but I carried on this application of SKLEER for another few hours, and the SKLEER had stopped the bump from developing and the bump was almost gone by 10 o'clock that morning.
So I must have put on about 15 applications of SKLEER on in that time, and managed to stop the bump from occurring. The next day the bump had disappeared completely and there was no evidence and scar that anything had occurred. This quick action showed that the application of SKLEER on various problems of the skin, where SKLEER is applied every half an hour, will be useful in a lot of ways.
Maurice, Sydney
From: carol johnson
To: info@skleer.com
Date: Tue, 21 Feb 2017 13:00:19 +0200
Subject: SKLEER
Good afternoon .I just want to congratulate you on a wonderful product. I have never come across an item which a person can use for almost anything. Im using Skleer for 6months now and wont change it for anything else. I tell all my friends about this wonderful product. It will definitely always be in my first aid cupboard. Keep up the good work. Regards Carol Johnson.
On EBAY:
Could feel the difference of my skin after the 1st use
Skin Chafing/Razor Rash/Nappy Rash
Member id aoifox81 ( Feedback Score Of 105

SKIN~Gel~Natural~Essential Oils~30ml (#151858331226)
Hi Gary,
I couldn't believe me eyes.
After a 13 mile run with some new running shoes I got one nasty blister. So I decided to put some of the Skleer on it as it was red and painful. I massage some onto my sore feet as well. The next day it was as if there never was a blister at all. The skin around it was tight and no loose skin to take off. It just disappeared as if it never existed. Thank you for the samples they really came in handy.
I will recommend to my running group the L.A.Leggers to use it as well. As runners we are always looking for relief from chaffing as well as blister.
Please provide me with the website so I can share it with my co-runners.
Thank you again.
All the best,
Carmen, Los Angeles
From: Jon Mullane
Sent: Sunday, September 20, 2015 3:31 PM
To: info@skleer.com
Subject: Great Product
Hi Gary!
I wanted to let you know I tried the Skleer Gel and it worked perfectly on a heat rash I encountered while performing in LA during a recent heatwave. Just after a few applications and a couple of days, it was completely gone!
I would highly recommend this product, and the fact that it has all natural ingredients is a bonus!
Cheers!
Jon Mullane
www.jonmullane.com
See the 2 email correspondences below to explain the before and after pictures.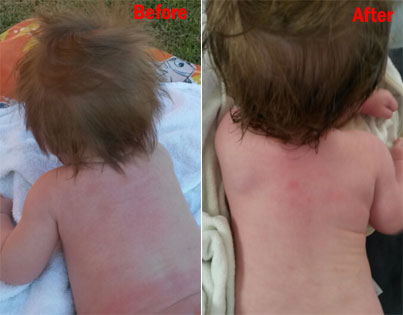 (Click on the picture to see a larger version)
NOTE: Look closely to see how much redder and swollen the back is in the before picture.
From: Sherriann Roux
Sent: 10 June 2014 07:51 AM
To: Angie van Staden
Subject: Before Photo
Here is the before photo, You can see how red and irritated his skin was. The roughness has even gone away and his skin is smooth now!
Thanks again
Sherriann Roux
From: Sherriann Roux
Sent: 10 June 2014 07:48 AM
To: Angie van Staden
Subject: After Photo
Morning,
Please find attached the after photo of my son, please if you do use the photo can you crop it so you do not see his bum!
I will sent the before one to you now.
His eczema keeps on looking better and better the more we use Skleer!
Thanks again
Sherriann Roux
HUSTEDS PHARMACY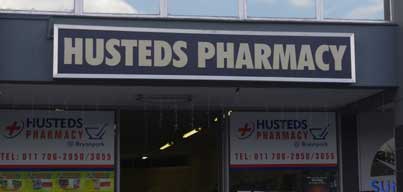 Audio Testimonials from Husteds Pharmacy
Audio 1 (Nothing helped Mosquito bite except SKLEER, also with oil burn)
Audio 2 (Good feedback customers, healed infested burn)
Audio 3 (Helps with shaving, ingrown hairs)
Audio 4 (Acne breakout cleared)
MARISSA REFERRED BY PHARMACIST SIA OF KILLARNEY RIVIERA PHARMACY


Marissa on usage of SKLEER on her Acne
Marissa on SKLEER for skin chafing and mosquito bites
Marissa On Other Products Used Then SKLEER
GRAYSTON PHARMACY
Grayston Pharmacy on Skleer Gel for Skin Chafing
MORNINGSIDE PHARMACY
Morningside Pharmacy Testimonials on SKLEER