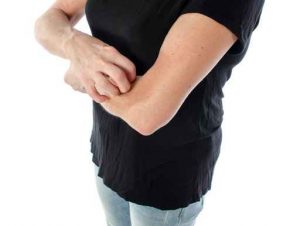 Itchy skin can be due to a number of factors.  The greatest challenge is that when we have pruritis or itchy skin, we have the desire to scratch.  Unfortunately when we scratch, we often simply replace the feeling of itch with the feeling of pain as our skin is sensitive or damaged. Pruritus or Itchy skin is a key symptom with many diseases and also sometimes of internal disorders. The challenge is that we want to relieve the skin without damaging or irritating it.
It can occur in many areas of the body, including the rectal area, causing pruritus ani, or in sweaty areas, such us under the breasts in women.
There are many factors that can cause pruritus or itchy skin.  It is a key symptom for sufferers of dermatitis, eczema, prickly heat or hives. One can get itchy skin from contact with certain plants, insect bites or reactions to medications.  It could be a stress reaction, an allergic reaction or an internal disorder and itchy skin is also a common symptom when pregnant.
With all of these conditions the main factor to bear in mind is that scratching is not the solution.  The main objective is to give the skin relief without irritating or damaging it.
Treatment of Itchy Skin
Please refer to our main Best Uses page for further details of specific conditions that may be the cause of itchy skin.
Many pruritus or itchy skin sufferers find contact with certain materials, chemicals or plants can exacerbate their itchiness so it is best to avoid contact with irritating soaps and detergents, non-organic cosmetics, wool and plants.
It is best to both address the cause and also treat the symptom of pruritus or itchy skin.
An anti-itch, anti-inflammatory gel or cream will relieve the itchiness and halt the desire to scratch. It is important to source as natural a product as possible as many commercially sold creams for itchy skin themselves contain harmful chemicals or chemicals that can induce a reaction.
BUY SKLEER NOW and take advantage of our limited time FREE SHIPPING offer and 60 day money back guarantee!
Tips
SKLEER All in One Skin Corrective contains Eucalyptus Oil a well-known anti-inflammatory that is perfect for itchy, dry or inflamed skin.  The combination of essential oils in SKLEER: Eucalyptus, Tea Tree, Caraway, Cinnamon and Cardamom work synergistically. The proprietary gel formula takes the potent essential oils deep into the skin to optimise healing.  The therapeutic power of SKLEER lies in the fact that the gel takes the natural ingredients to the lower levels of the skin for enhanced penetration and effectiveness.
For itchy skin, the oil of eucalyptus is both anti-inflammatory and a natural antiseptic, it is also a highly effective soothing agent for the skin.  Caraway oil neutralises the effects of histamine and as such can be very helpful in dissolving skin rashes.  The SKLEER All in One Skin Corrective Gel forms a protective layer on the skin to help lock moisture in and hence creates a perfect environment for healing.
SKLEER contains no parabens, no harmful preservatives, no lanolin, no hydroquinone, no corticosteroids and is not tested on animals.  The all natural formula is ideal for even the most sensitive of skins, all age groups and is suitable for babies and toddlers. Thanks to the unique patent pending formulation SKLEER All in One Skin Corrective is non-greasy.
For pruritus or itchy skin apply to the affected area 3 times a day.
We have many testimonials from customers who have found relief from a variety of pruritus or itchy skin conditions as you can see below. Our customers have found that SKLEER All in One Skin Corrective Gel not only gives relief to the itch but it calms the skin and reduces the redness in many cases quickly dissolving rashes.
Hi Kevin,
Just wanted to check in and let you know what I think of the Skleer product you sent.
I've used it several times now, and I must say it's really effective! I suffer from really bad allergies around my dog (yes unfortunately, my own dog!) and my skin actually breaks out in hives and itchiness when I touch her. I've used Skleer immediately on the skin, and I find it's so effective at taking away the itch. It still takes the usual time for the redness to go down, but I have definitely noticed a difference in the itch and discomfort of the allergies.
My mum suffers from really bad dermatitis on her hand, and she has found by applying everyday that the itchiness is also reduced, which in turn makes the skin look a lot less nasty because she is less likely to irritate it further.
I found the gel a little bit drying when used on my face, so I probably wouldn't use it for reasons like pimples or blackheads, but I can see how effective it may be given that it contains tea tree oil.
Overall I think its a great multi-purpose product and it would be perfect for taking away camping or on a holiday.
Thanks a lot for introducing me to the product Kevin, and I will be posting a review on my blog in the next week.
Regards,
Bec
Blog | becandbeauty,blogspot.com.au
Facebook | facebook.com/becandbeauty
Instagram | instagram.com/becandbeauty
Email | becandbeauty@gmail.com