Aging Skin
From the age of 40 upwards the skin undergoes change and dryness, fine lines, wrinkles and discoloration can progress quickly. Skin cell turnover slows down with age and can lead to a dull complexion. Lack of sleep and stress are also factors that can contribute to aging skin or give our skin a lacklustre appearance. Alcohol and smoking can add years to one's appearance as can exposure to the sun or wind. Genetics, sun habits, diet and skin care routines all contribute to the skin's appearance and condition as we age.
Treatment
The main objective is to hydrate and moisturise aging skin and restore lost nutrients to the skin. Drink plenty of water as healthy fluids will have a significant impact on the skin. Diet can play a part in lifting skin radiance as can reducing environmental impact such as sun exposure and weather extremes like cold and wind.
BUY SKLEER NOW and take advantage of our limited time FREE SHIPPING offer and 60 day money back guarantee!
Tips
SKLEER All in One Skin Corrective Gel hydrates and moisturises skin. The combination of essential oils in SKLEER: Eucalyptus, Tea Tree, Caraway, Cinnamon and Cardamom work synergistically to restore radiance and glow to aging skin.
The proprietary gel formula takes the potent essential oils deep into the skin to assist in healing and to take moisture into the lower levels.  The therapeutic power of SKLEER lies in the fact that the gel takes the natural ingredients to the lower levels of the skin for enhanced penetration and effectiveness.
The SKLEER All in One Skin Corrective gel then forms a protective layer on the skin to help lock moisture in and hence creates a perfect environment for regeneration and restoration of aging skin.
Cardamom oil is rich in vitamins and micronutrients such as niacin, pyridoxine, riboflavin, thiamine, Vitamin A, Vitamin C, sodium, potassium, calcium, copper, iron, manganese, magnesium, phosphorous and zinc.  The proprietary gel takes these micronutrients deep into the skin to restore lost nutrients.
SKLEER contains no parabens, no harmful preservatives, no lanolin, no hydroquinone, no corticosteroids and is not tested on animals.  The all natural formula is ideal for even the most sensitive of skins and all age groups. SKLEER All in One Skin Corrective is a non-greasy formulation.
Apply SKLEER morning and night to aging skin to restore skin radiance and condition the skin. Sun exposure should be minimised and it is best to use a SPF30+ sunscreen.  Apply SKLEER first before applying sun screen or other cosmetic products.
Below are some testimonials of people who've used SKLEER for dull or aging skin related issues.
Very fast postage. I LOVE your products used them everyday, thank you for such a great product
BEST FACE SERUM – Serious Anti Aging for a Younger Glowing Skin (#152570122631)
Youtube Review of SKLEER
Skleer gel is very effective for black and whiteheads and uneven skin tone.
Best Regards
[Name redacted for privacy]
Scar Gel 75ml to Fade away Old & New Acne, Burn & Other Marks (#172446937216)
Thanks.Fabulous product for my skin I will be purchasing regularly.
Buyer:
Member id bron6012 ( Feedback Score Of 405)
During past 6 months
Hello, thank you for the samples. It really helped me make up my mind. I cannot seem to find Skleer at our local retailers. I tried Dischem and Clicks as well. It helped keep my skin in check during the pregnancy when nothing else could!
Looking forward to hearing from you!
M.C. South Africa
Video Testimonial on SKLEER
Excellent product speedy post, highly recommend my 2nd order A+++ seller
Buyer:
During past month
SKLEER Anti-Aging Gel Diminish Sun & Age Spots Reduce Wrinkle Appearances (#161866814174)
I love this product it really works for me
Buyer: tanyamodel ( 239)
During past month
Calms Redness, Prevents & Heals Scars, Anti-Aging SKLEER gel 75ml (#162229413854)
View Item
| | |
| --- | --- |
| |  Simply the best! |
By Pablo on March 19, 2017
This is the only skin treatment product I have ever reviewed due to it's remarkable effectiveness.
Used it on irritated, oily,dry,discolored areas, insect bites and much more. It has been effective on all, unlike most other treatments.
Please try it and suffer no longer—-works within hours!
I know you will be pleased.
Good afternoon. I just want to congratulate you on a wonderful product. I have never come across an item which a person can use for almost anything. I'm using Skleer for 6 months now and won't change it for anything else. I tell all my friends about this wonderful product. It will definitely always be in my first aid cupboard. Keep up the good work.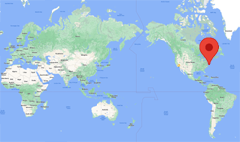 Carol, New York
Love love love this product. Never ever let it go out of stock. Thank you…
Anti Melasma, Age Spots, Sun Spots, Pigmentation, Freckles – Gel to Relief (#151858346565)
View Item
Buyer:Member id 6moo9 (Feedback Score Of 295)
Ebay
Here is the picture of the forehead of a 40+ year old female (she won't give us her age 😉 ) where SKLEER has removed the deep wrinkle lines from her forehead in a period of 2 months, unfortunately we don't have a before on this :(, but it is remarkable as we did see her before!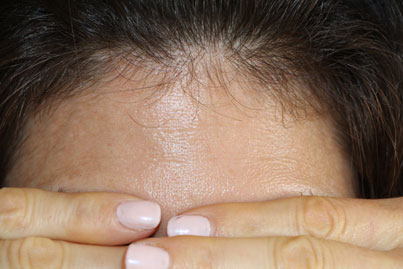 (Click on the photo above to see a larger version)
From: Debbie Faulmann [mailto:Debbie.Faulmann@investec.co.za] Sent: 13 December 2013 10:20 AM
To: morris@colic.co.za
Subject: SKLEER
Hi Morris,
I want to commend you for an excellent product that you've put on the market.
I've been using this cream for about three weeks and WOW if ever there is a product on the market that says what it says it will do then SKLEER is it.
I am over fifty and my skin has become a bit dry and the nose area is oily it has cleared those areas and my skin has taken on a glow and it is looking very health.
It also seems like my skin has tighten up as well.
There is some pigmentation on my skin due to medication and it seems to be getting lighter. WELL DONE
I have been complimented lately on the "healthy look" and I have been telling my friends about this cream I happen to come by "per chance".
I have been around enquiring about Skleer to buy some but to no avail as the pharmacies in the Cape Town area have not heard about it.
Could you please advise me as to who the stockist is of your WONDERFULL product SKLEER.
Thanking you and Well Done
Debbie Faulmann
Cell:
084 405 8858
Investec Bank Limited
Tel: +27 416 3473
Fax: +27 416 1002
Email: debbie.faulmann@investec.co.za
SKLEER showcases on SugarBash's Shirley Strawberry on the Steve Harvey Morning Show on the radio in the USA
Click here for the audio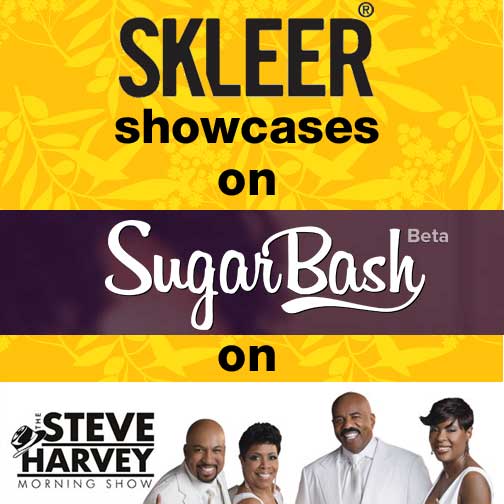 Here is a link from Shirley Strawberry of the Steve Harvey Radio Show on Facebook:
Shirley Strawberry
Here is the email correspondence we had with Samantha Kandah, partner with Steve Harvey on Sugarbash before our radio spots:
Re: Steve Harvey Radio Spot
From: Samantha Kandah
Sent: Thu 6/25/2015 1:54 PM
To: gary.kramer@skleer.com
Hi Gary,
I hope all is well!
Attached you will find the file from our spot this morning. It will run again tomorrow at 8:34 am ET and three times on Saturday we do not have the times yet.
As an additional bonus I got Mr. Harvey to use his social media platforms to post about SB and the brands. They posted today and will be posting again tomorrow and Saturday. This will give us more exposure to an additional 4M followers.
The ladies keep emailing us for more information about your product! It is amazing I am hoping they are converting over to additional sales.
Please let me know if you need anything else.
Thanks,
Sam
Steve Harvey Radio Spot
From: Samantha Kandah
Sent: Tue 6/23/2015 12:08 PM
To: gary.kramer@skleer.com
Hi Gary!
Sorry for the delay on securing a date for our radio spot. We will be on this Thursday, June 25, 2015. I am still waiting for the time, however, the producers are giving us the prime spot!
As a bonus, we will record the spot as a billboard and run it again three more time!s!! We are shooting for Friday and Saturday, June 26, & 27th.
So plenty of airtime! I have another bonus in the works, I just to confirm one more detail then I can share the good news!
Our ladies are really loving your product! Here is a link to one of our bloggers reviewing the products:
http://alwaysabby.com/sugarbash-shirley-strawberrys-sweet-picks-review-coupon-code/#more-2990
Thank you!
Sam