The ultimate soothing gel after waxing, facial peels & laser therapy
THE ULTIMATE EASY SOLUTION 
The solution to a widespread problem found in skin clinics with just one add-on product.
SKLEER Natural Skin Restoration Gel complements any skin care range that you are currently using. No need to change what you are using or add another range; just add SKLEER Natural Skin Restoration Gel.
SKIN BURN
After waxing, facial peels or laser therapy where redness, swelling and blisters often appear after treatment, SKLEER Natural Skin Restoration Gel helps take away skin discomfort, calm down the inflammation instantly and restore the skin in 3-5 days (depending on the severity of the condition), all without scarring. This alone will save you a lot of headaches and help you to keep happy clients.
AFTERCARE INTERVENTION
SKLEER Natural Skin Restoration Gel is skin "Aftercare" to all laser therapy such as hair removal, skin rejuvenation, IPL etc., waxing, dermabrasion, needling, facials, electrolysis, cosmetic tattoo, and red vein removal which promotes healing and prevents complications from adverse skin reactions.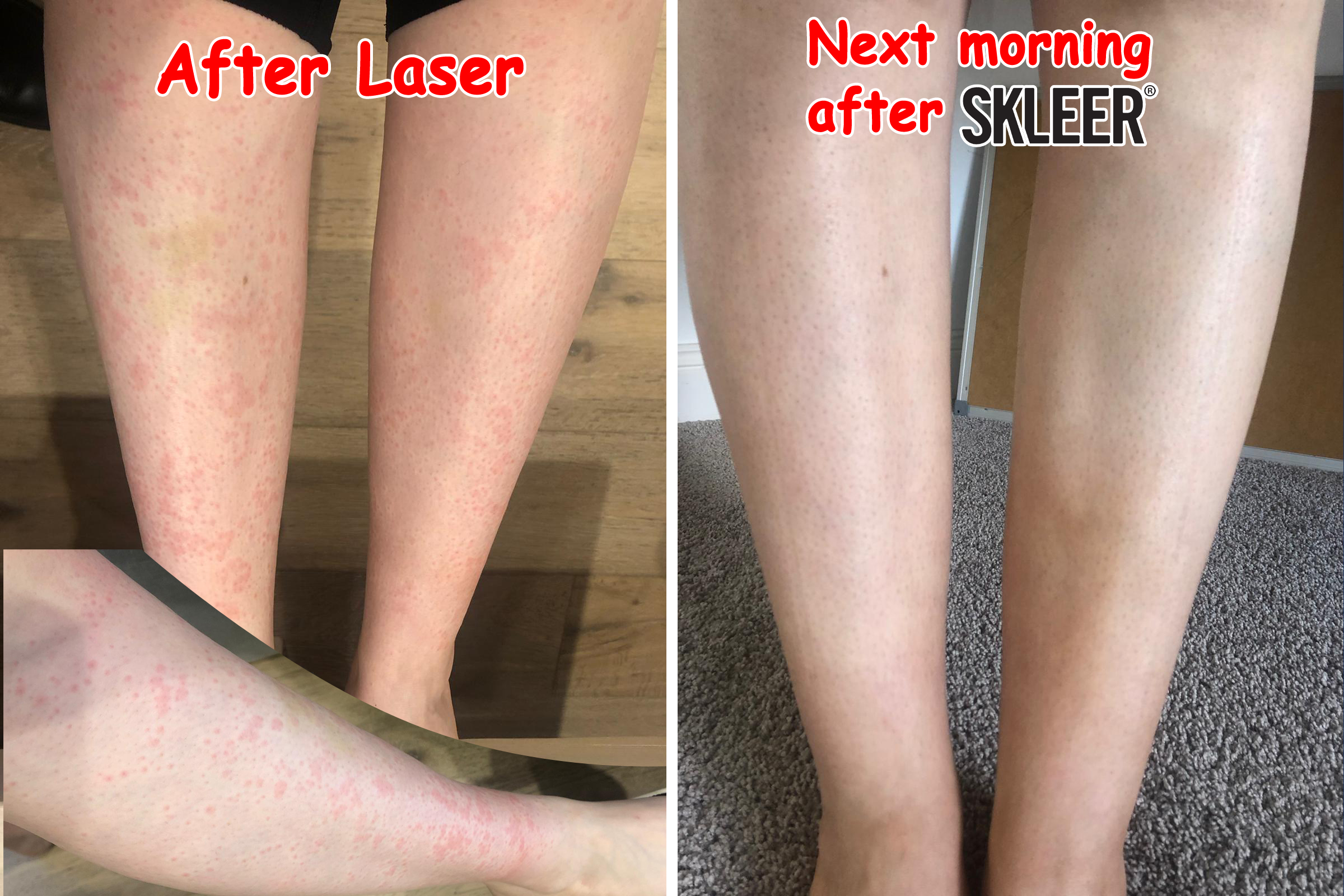 REDUCES INFLAMMATION
Helps to immediately soothe skin irritation, dramatically reduce inflammation, support skin healing, and assist in the recovery of damaged and resistant skin conditions. Works wonders on painful and inflamed skin conditions such as Acne skin, cuts and abrasions.
BLEMISHES & SCARS
Helps clear all types of skin blemishes and promote healing of all scars from acne to post-surgery scars.
RELIEF FROM ALLERGIC REACTIONS
Provides relief from Allergic reactions to any treatments you have performed. By giving clients this it will help to heal and bring the skin back to normal. Also, great for clients who have sensitive skin and tell you that they can't use most products without an allergic reaction.
INTENSIVE SKIN-CARE MOISTURIZER
In addition to using SKLEER Natural Skin Restoration Gel for after-skin-care, many clinics sell it as an intensive skin-care moisturizer to help reduce lines and wrinkles keeping the skin looking young and blemish free. It also helps to improve skin texture, decrease pigmentation, aid in scar reduction and lessen any skin sensitivity.
NATURAL REMEDIES
Found to help with skin suffering from sunburn, radiation burns, chemotherapy treatments, dermatitis, eczema, diaper rash, insect bites and hives. Also works wonders for cold sore sufferers.
A SMALL OUTLAY
The small minimum order is required.
PROFESSIONAL TRAINING
Personal training for you and your staff on how to incorporate the gel into your existent treatments will be conducted personally by SKLEER either directly or through video conference.
MORE PROFIT
You will have repeat sales with our product because of its effectiveness and versatility.
The whole family will use it, clients often carry it in their handbag as a first aid, and it will be stored in many kitchens for all kinds of mishaps.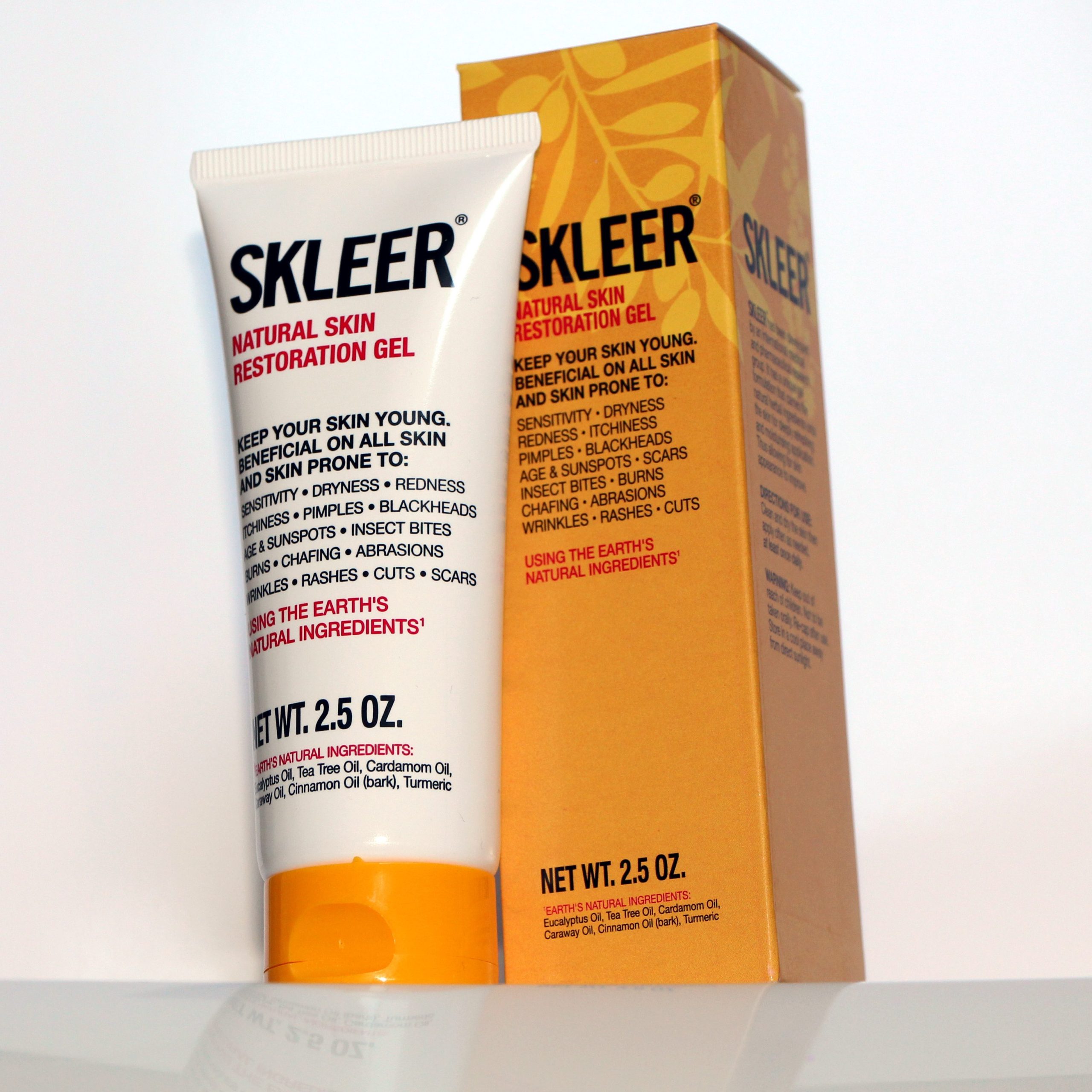 SKLEER
Manufactured by
Acatac, Inc.
Los Angeles, CA, USA