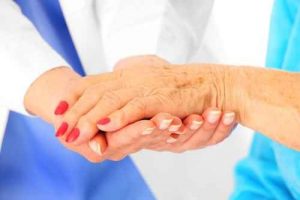 Age spots, sun spots or liver spots as they are sometimes referred to are blemishes on the skin.  They are flat blemishes and can be different colours, from brown, grey to black.  They are found on areas most exposed to the sun such as on the hands, face, shoulders, arms and face.
They are sometimes called liver spots because they were incorrectly believed to be related to liver conditions. Age spots are caused by an excess of melanin. They may be caused by skin aging, sun exposure, or other forms of ultraviolet light exposure, such as tanning beds.  They can also be related to hormonal fluctuations that are experienced, for example during pregnancy, menopause or through the use of oral contraceptives. From the age of 40 upwards the skin is less able to regenerate from sun exposure, and age spots are common as we age, particularly in those who spend time in the sun.
Treatment of Sun & Age Spots
In the vast majority of cases, age spots pose no threat and require no treatment. However, despite being a benign condition, they are sometimes considered unsightly and some people choose to have them removed. This can be done by electro surgery or laser treatment. A less invasive treatment approach would be to use a skin cream or gel that assists in regenerating the skin as well as skin bleaching products. Care should be taken when choosing a skin cream or gel as some products with skin bleaching properties have been known to cause adverse and very damaging long term reactions, such as hydroquinone.
BUY SKLEER NOW and take advantage of our limited time FREE SHIPPING offer and 60 day money back guarantee!
Tips
SKLEER All in One Skin Corrective gel is a fantastic product to help restore and regenerate the skin. It helps to visibly improve the appearance of sun and age spots.
The combination of essential oils in SKLEER: Eucalyptus, Tea Tree, Caraway, Cinnamon and Cardamom work synergistically. The proprietary gel formula takes the potent essential oils deep into the skin to assist healing and take moisture into the lower levels.  The therapeutic power of SKLEER lies in the fact that the gel takes the natural ingredients to the lower levels of the skin for enhanced penetration and effectiveness. The SKLEER All in One Skin Corrective gel then forms a protective layer on the skin to help lock moisture in and hence creates a perfect environment for helping regeneration and restoration.
SKLEER contains no parabens, no harmful preservatives, no lanolin, no hydroquinone, no corticosteroids and is not tested on animals.  The all natural formula is ideal for even the most sensitive of skins and all age groups. Thanks to the unique patent pending formulation SKLEER All in One Skin Corrective is non-greasy.
For reduction in the appearance of age and sun spots apply to the affected skin area morning and night for 3 months.  Can be used under make up or other cosmetic products. Sun exposure should be minimised so it is best to use a sunscreen of at least 30+ SPF.  Apply SKLEER before applying sun screen.
We have many testimonials from customers who have found a visible reduction in the appearance of sun and age spots after using SKLEER for 3 months as you can see below.
The item was exactly what I wanted. I have used Skleers before and have been very happy with it the last couple of years highly recommended, suits my blotchy skin perfectly
Best Scar Gel for Acne Scars,Old Scars & New Scars and Surgical Scars 75ml. (#162229443001)