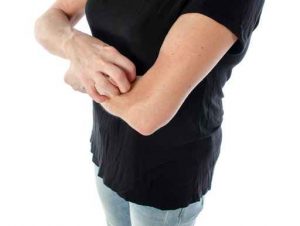 Itchy skin can be due to a number of factors.  The greatest challenge is that when we have pruritis or itchy skin, we have the desire to scratch.  Unfortunately when we scratch, we often simply replace the feeling of itch with the feeling of pain as our skin is sensitive or damaged. Pruritus or Itchy skin is a key symptom with many diseases and also sometimes of internal disorders. The challenge is that we want to relieve the skin without damaging or irritating it.
It can occur in many areas of the body, including the rectal area, causing pruritus ani, or in sweaty areas, such us under the breasts in women.
There are many factors that can cause pruritus or itchy skin.  It is a key symptom for sufferers of dermatitis, eczema, prickly heat or hives. One can get itchy skin from contact with certain plants, insect bites or reactions to medications.  It could be a stress reaction, an allergic reaction or an internal disorder and itchy skin is also a common symptom when pregnant.
With all of these conditions the main factor to bear in mind is that scratching is not the solution.  The main objective is to give the skin relief without irritating or damaging it.
Treatment of Itchy Skin
Please refer to our main Best Uses page for further details of specific conditions that may be the cause of itchy skin.
Many pruritus or itchy skin sufferers find contact with certain materials, chemicals or plants can exacerbate their itchiness so it is best to avoid contact with irritating soaps and detergents, non-organic cosmetics, wool and plants.
It is best to both address the cause and also treat the symptom of pruritus or itchy skin.
An anti-itch, anti-inflammatory gel or cream will relieve the itchiness and halt the desire to scratch. It is important to source as natural a product as possible as many commercially sold creams for itchy skin themselves contain harmful chemicals or chemicals that can induce a reaction.
BUY SKLEER NOW and take advantage of our limited time FREE SHIPPING offer and 60 day money back guarantee!
Tips
SKLEER All in One Skin Corrective contains Eucalyptus Oil a well-known anti-inflammatory that is perfect for itchy, dry or inflamed skin.  The combination of essential oils in SKLEER: Eucalyptus, Tea Tree, Caraway, Cinnamon and Cardamom work synergistically. The proprietary gel formula takes the potent essential oils deep into the skin to optimise healing.  The therapeutic power of SKLEER lies in the fact that the gel takes the natural ingredients to the lower levels of the skin for enhanced penetration and effectiveness.
For itchy skin, the oil of eucalyptus is both anti-inflammatory and a natural antiseptic, it is also a highly effective soothing agent for the skin.  Caraway oil neutralises the effects of histamine and as such can be very helpful in dissolving skin rashes.  The SKLEER All in One Skin Corrective Gel forms a protective layer on the skin to help lock moisture in and hence creates a perfect environment for healing.
SKLEER contains no parabens, no harmful preservatives, no lanolin, no hydroquinone, no corticosteroids and is not tested on animals.  The all natural formula is ideal for even the most sensitive of skins, all age groups and is suitable for babies and toddlers. Thanks to the unique patent pending formulation SKLEER All in One Skin Corrective is non-greasy.
For pruritus or itchy skin apply to the affected area 3 times a day.
We have many testimonials from customers who have found relief from a variety of pruritus or itchy skin conditions as you can see below. Our customers have found that SKLEER All in One Skin Corrective Gel not only gives relief to the itch but it calms the skin and reduces the redness in many cases quickly dissolving rashes.
Amazing Stuff repeat Customer can't get enough A++
Buyer:

ramonauila
( 93)

During past month
PERIORAL DERMATITIS/ ITCHY/SORE DRY SKIN RELIEF~ NATURAL Gel +Soap Pack (#162317267008)

View Item

SKLEER is the best thing in the whole world, we keep it next to the bed.
Video Testimonial on SKLEER
| | |
| --- | --- |
| |  Simply the best! |
By Pablo on March 19, 2017
This is the only skin treatment product I have ever reviewed due to it's remarkable effectiveness.
Used it on irritated, oily,dry,discolored areas, insect bites and much more. It has been effective on all, unlike most other treatments.
Please try it and suffer no longer----works within hours!
I know you will be pleased.
From: carol johnson
To: info@skleer.com
Date: Tue, 21 Feb 2017 13:00:19 +0200
Subject: SKLEER
Good afternoon .I just want to congratulate you on a wonderful product. I have never come across an item which a person can use for almost anything. Im using Skleer for 6months now and wont change it for anything else. I tell all my friends about this wonderful product. It will definitely always be in my first aid cupboard. Keep up the good work. Regards Carol Johnson.
Good day
I was given a sample of skleer by a friend. My 4 month old baby has eczema on his face and I tried it and almost immediately I could see a difference.
R.S.  South Africa
On a personal note, I LOVE the cream I have been using the sample on my leg for bad eczema and overnight the redness and itchiness has gone. Fabulous.
Best of health,
Tamar Bhandarkar, N.D., B.H.Sc (Comp Med)
Technical, Regulatory and New Products Innovation Manager
Global By Nature Pty Ltd
Love love love this product. Never ever let it go out of stock. Thank you...
Anti Melasma, Age Spots, Sun Spots, Pigmentation, Freckles - Gel to Relief (#151858346565)
View Item
Buyer:Member id 6moo9 (Feedback Score Of 295)
Ebay
Hi Kevin,
Just wanted to check in and let you know what I think of the Skleer product you sent.
I've used it several times now, and I must say it's really effective! I suffer from really bad allergies around my dog (yes unfortunately, my own dog!) and my skin actually breaks out in hives and itchiness when I touch her. I've used Skleer immediately on the skin, and I find it's so effective at taking away the itch. It still takes the usual time for the redness to go down, but I have definitely noticed a difference in the itch and discomfort of the allergies.
My mum suffers from really bad dermatitis on her hand, and she has found by applying everyday that the itchiness is also reduced, which in turn makes the skin look a lot less nasty because she is less likely to irritate it further.
I found the gel a little bit drying when used on my face, so I probably wouldn't use it for reasons like pimples or blackheads, but I can see how effective it may be given that it contains tea tree oil.
Overall I think its a great multi-purpose product and it would be perfect for taking away camping or on a holiday.
Thanks a lot for introducing me to the product Kevin, and I will be posting a review on my blog in the next week.
Regards,
Bec
Blog | becandbeauty,blogspot.com.au
Facebook | facebook.com/becandbeauty
Instagram | instagram.com/becandbeauty
Email | becandbeauty@gmail.com
SKLEER on an insect bite.
After getting bitten, the bite was swollen and extremely itchy. After applying SKLEER one time, the bite was no longer itchy and I forgot it was there within about 15 minutes. I only applied SKLEER one more time, and by the 2nd day it was gone.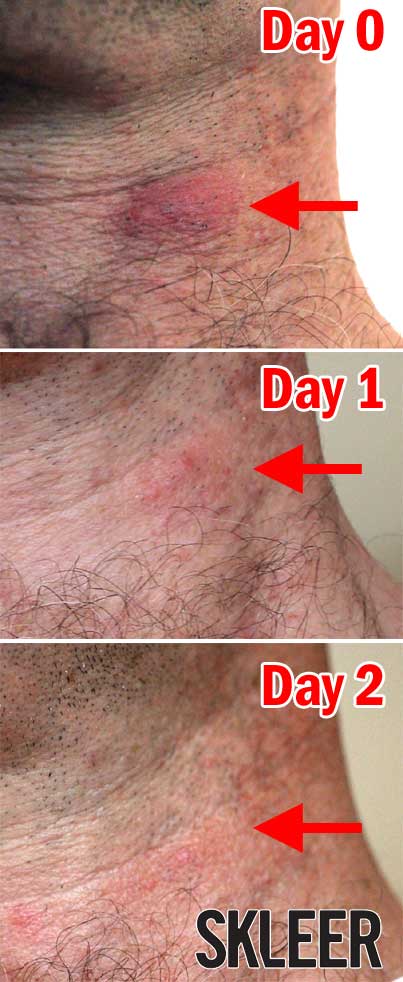 FYI - I discovered another great use for Skleer. Tattoos! With the latest tattoo to my collection, I used Skleer instead of my usual goo. Four days later it was completely healed!
Lara Bosch on Facebook
TUCKERS PHARMACY (SUNNINGHILL)
Worked brilliantly. Siphiwe's (pharmacist) daughter suffers with eczema - usually takes 2 days to clear with the help of Skleer.
When her daughter scratches herself while playing, she asks mommy for her medicine, ie. Skleer :).
Majority feedback from customers relates to spots and pimples - very positive.
Audio Testimonial from Tuckers Pharmacy
Audio of above
More from Springbok Pharmacy...
Bonnie who works at the cosmetic counter said she is impressed with Skleer - her daughter suffers with fever blisters, which usually take +/- 4 days to clear..since using Skleer, healing time has been cut in half to +/- 2 days.
Noli who works at the cosmetic counter said she was teased constantly and at one stage did not have a lot of confidence due to her skin being very dark with a lot of marks and hated having photos taken. Since using Skleer, her skin has improved drastically, has regained confidence and now easily poses for photos. She said she receives proposals left, right and centre. She loves Skleer.
Audio testimonial from Noli (Nokuthaba), a cosmetic counter assistant at Springbok pharmacy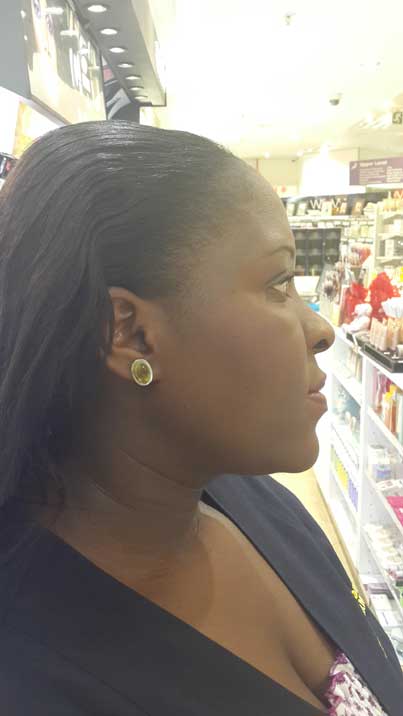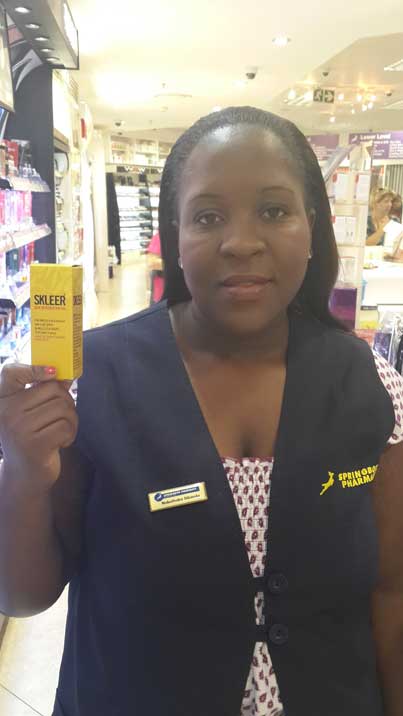 (To download high definition originals, so you can really zoom in and see how good her skin is now, click on photos above.)
Daddy, my arm is itchy underneath because a mosquito bit me, please will you get the SKLEER.
Maddy - Age 6
There is mass hysteria in our house because the Skleer is finished... It is our miracle gel for anything from an itchy back to sunburn to a cut or bruise. Please let me know where I can purchase it in Kempton Park area. Thanks

 Lara Bosch on Facebook
RIVERSIDE PHARMACY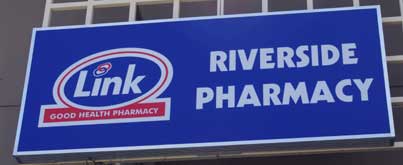 Riverside Pharmacy Sales Assistants talk about SKLEER
Audio Testimonials from another Riverside Sale's Assistant

WATERTOWER PHARMACY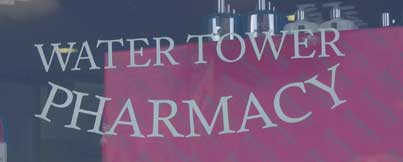 Audio Testimonials from Bridget at Watertower Pharmacy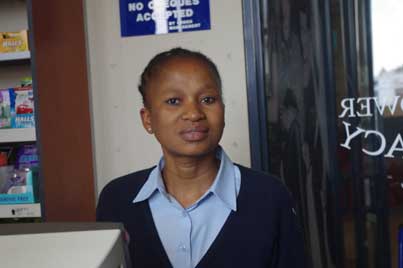 I have personally used the product, and found Skleer to be effective in relieving dry and itchy skin.
Precious
More feedback...
I've just spoken to a gentleman situated in Soweto by the name of Bheki.
He picked up some samples at Mangalani Pharmacy in Soweto.
Results found:
1. His niece struggles in summer with itchy skin - alleviated by Skleer
2. Old lady (friend) - suffered with dry skin until using Skleer
3. He personally has noticed an improvement with the lightening of uneven pigmentation marks
I have advised him on the various distribution channels - he said he will go to his local pharmacy and ask them to order.
I have also given him my email address to keep me up to speed.
Regards
Angie
Bennett's Gauteng Representative
Dominique from Skin & Nail Lounge: quote - "I LOVE THE PRODUCT"...has helped clear her blackheads and acne.
Monica (employee at Husted's) gave a sample to her cousin who suffers with acne and noted it improved her condition.
Rebecca from Rebecca's Beauty Salon once again commended Skleer for relieving her symptoms of an itchy back. Loretta (an employee) says Skleer cleared her condition of flaky skin on her face. Two ladies who attend Rebecca's church - one with acne and the other used a product that burnt her skin praise Skleer for repairing these symptoms.
Skin Sense Day Spa: Jill was "day off", however I managed to speak to Mya who informed me that a work colleague (Amber - off sick) who had ringworm, went to the doc for meds which didn't help - she decided to try Skleer and it disappeared. They are all impressed.
Morningside Dispensary: Terry, Minnie, Lucia, Shelley and Dipuo all agreed and I quote: "THIS PRODUCT IS EXCELLENT". Helped them with uneven pigmentation (sun spots), pimples and black heads.
Angie
Bennett's Gauteng Representative