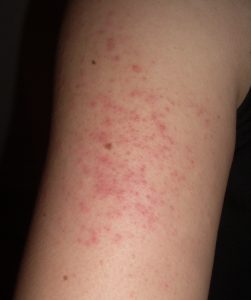 Keratosis pilaris (ker-uh-TOE-sis pih-LAIR-is) is a common, harmless skin condition that causes dry, rough patches and tiny bumps, usually on the upper arms, thighs, cheeks or buttocks. The bumps generally don't hurt or itch.
Keratosis pilaris is often considered a variant of normal skin. It can't be cured or prevented. But you can treat it with moisturizers and prescription creams to help improve the appearance of the skin. The condition usually disappears by age 30.
Keratosis pilaris can occur at any age, but it's more common in young children. Signs and symptoms include:
Painless tiny bumps, typically on the upper arms, thighs, cheeks or buttocks
Dry, rough skin in the areas with bumps
Worsening when seasonal changes cause low humidity and skin tends to be drier
Sandpaper-like bumps resembling goose flesh
Keratosis pilaris results from the buildup of keratin — a hard protein that protects skin from harmful substances and infection. The keratin forms a scaly plug that blocks the opening of the hair follicle. Usually many plugs form, causing patches of rough, bumpy skin.
No one knows exactly why keratin builds up. But it may occur in association with genetic diseases or with other skin conditions, such as atopic dermatitis. Dry skin tends to worsen this condition.
With all of these conditions the main factor to bear in mind is that scratching is not the solution.  The main objective is to give the skin relief without irritating or damaging it.
Treatment of Keratosis Pilaris
Gradually, keratosis pilaris usually clears up on its own. In the meantime, you might use any of the various products available to help improve the appearance of affected skin. If moisturizing and other self-care measures don't help, your doctor may prescribe medicated creams.
Using medicated cream regularly may improve the appearance of the skin. But if you stop, the condition returns. And even with treatment, keratosis pilaris tends to persist for years.
An anti-itch, anti-inflammatory gel or cream will relieve the itchiness and halt the desire to scratch. It is important to source as natural a product as possible as many commercially sold creams for itchy skin themselves contain harmful chemicals or chemicals that can induce a reaction.
BUY SKLEER NOW and take advantage of our limited time FREE SHIPPING offer and 60 day money back guarantee!
Tips
SKLEER All in One Skin Corrective contains Eucalyptus Oil a well-known anti-inflammatory that is perfect for itchy, dry or inflamed skin.  The combination of essential oils in SKLEER: Eucalyptus, Tea Tree, Caraway, Cinnamon and Cardamom work synergistically. The proprietary gel formula takes the potent essential oils deep into the skin to optimise healing.  The therapeutic power of SKLEER lies in the fact that the gel takes the natural ingredients to the lower levels of the skin for enhanced penetration and effectiveness.
For itchy skin, the oil of eucalyptus is both anti-inflammatory and a natural antiseptic, it is also a highly effective soothing agent for the skin.  Caraway oil neutralises the effects of histamine and as such can be very helpful in dissolving skin rashes.  The SKLEER All in One Skin Corrective Gel forms a protective layer on the skin to help lock moisture in and hence creates a perfect environment for healing.
SKLEER contains no parabens, no harmful preservatives, no lanolin, no hydroquinone, no corticosteroids and is not tested on animals.  The all natural formula is ideal for even the most sensitive of skins, all age groups and is suitable for babies and toddlers. Thanks to the unique patent pending formulation SKLEER All in One Skin Corrective is non-greasy.
For pruritus or itchy skin apply to the affected area 3 times a day.
Our customers have found that SKLEER All in One Skin Corrective Gel not only gives relief to the itch but it calms the skin and reduces the redness in many cases quickly dissolving Keratosis Pilaris.